Sr. Supervisor, Corporate information security
ref : CEGY69 | 31 janv. 2018
date limite de candidature : 31 mars 2018
smart village orange Egypt building - Egypt
votre rôle
1. Serving as the process owner for all ongoing activities related to corporate information security within the organization while spreading information security awareness and maintaining it at the corporate level.
2. Participate in the development and implementation of global security policy, standards, guidelines and procedures to ensure ongoing maintenance of security, and its compliance with SOX Controls and ISO/IEC 27001 and the group standards.
3. Participate in defining the security management system requirements (ISMS) in accordance to the ISO 27001 requirements and group information security standard in order to ensure that security objectives are being achieved.
4. Set the security requirements needed in any new/existing products and services that may impact any security aspect and verify their proper implementation.
5. Apply Orange ISMS standards in alignment with the group standards.
6. Participate in performing ISMS gap analysis and developing the information security forum priorities and roadmap, follow up on the implementation of the plans.
7. Develop the corporate information security dashboard through measuring, monitoring and reporting information security forum metrics and plans to ensure that organizational objectives are achieved.
8. Participate in reporting the critical security incidents and take recommended corrective actions to the Information Security Forum and FT.
9. Participate in periodic information security risk assessment for the company critical systems and recommend the adequate controls as per the Information security scope and limits.
10. Engage and assess the information security risk assessments for new/existing products and services that may impact any information security aspect.
11. Identify and assess information security risk / exposure affecting the business at the corporate level.
12. Ensure full implementation of global security policy, standards, guidelines and procedures to ensure ongoing maintenance of security and reinforce standard security level whenever necessary.
13. Responsible for data classification across the organization ensuring staff awareness and proper follow-up and implementation.
14. Initiate, facilitate, promote and maintain activities to create the corporate information security awareness.
15. Ensure closure of any SOX deficiencies on yearly basis.
Maintain the archiving and record management policy and system.
votre profil
Education:
1. Bachelor degree in Computer Science or IT.
2. CISSP and/or CISA certifications are highly preferred
Experience:1. Minimum 4 years of experience in the risk assessment and security field.
2. Previous experience in project management.
3. Good knowledge of information security technologies.
4. Strong knowledge of network exploitation, ethical hacking, penetration testing.
Knowledge of database applications, spreadsheet design and report writing software
compétences
1. Very good English both spoken and written.
2. Very good computer working skills such as databases, operating systems and networks.
3. Strong technical writing skills.
4. Good communication skills.
5. Excellent organizational abilities.
6. Strong people management skills.
entité
HR & Corporate support
Operating the global security management system on the required scope of activities and services to ensure effective handling of information security risks in compliance with ISMS framework and group directions.
Orange Egypt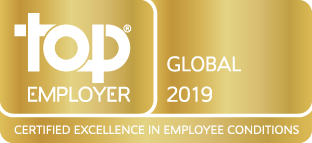 des salariés sont fiers de travailler pour Orange
recommandent Orange comme une entreprise où il fait bon travailler
en France dans le classement Happy Candidates avec une note de 8.6/10 dans la catégorie des entreprises de plus de 1000 salariés
Orange obtient depuis 2014 le label sur la mixité hommes/femmes (Gender Equality European Standard)