Graduate Programme
You have an incredible talent
Graduate Programme
You have an incredible talent
Hundreds of assignments, hundreds of stories, what will yours be ?
Checklist
You are finishing a 2-year Master's degree

You don't yet know exactly what you want to do in life...

... but you've got potential;

You're up for a challenge;

You like to push the boundaries;

Managing complex situations doesn't scare you;

You're dreaming of an international experience;

You want to make big things happen.
Etienne
Class of 2010
Etienne is 34 years old. He left the programme 9 years ago. He has just taken up the helm of the Cloud entity in France. Joining the Graduate Programme means being able to reach this job level very quickly.
Etienne is the Orange Cloud for Business France director
Apply in 2020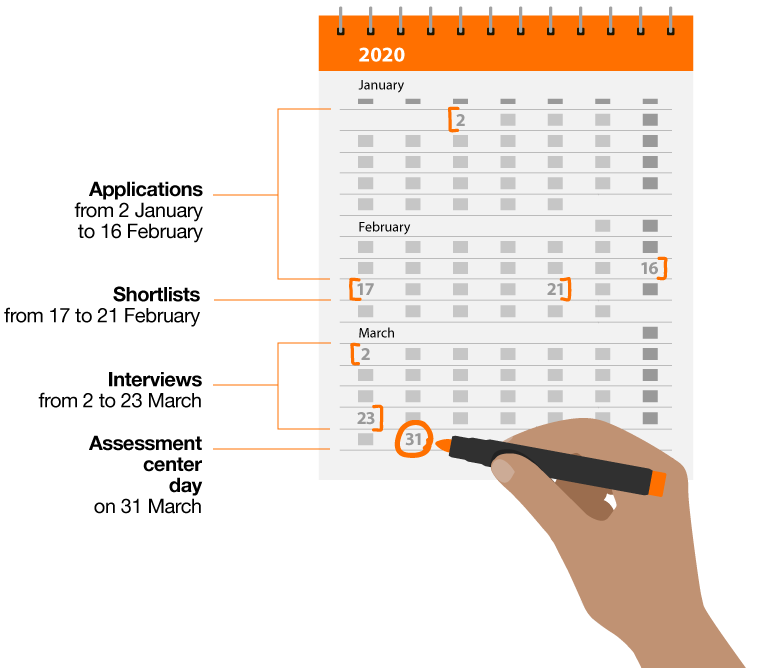 Fatma
class of 2018
The Orange Graduate Programme is a selective programme aimed at people who don't know exactly what they want to do.

Over the course of three years, you discover three different experiences, in different countries, one experience in a start-up, work for a charitable organization, discovering different business units and job lines.

In a little time, you learn a lot, you meet people from a great variety of backgrounds. At the end of the day, you'll discover Orange, of course, but you'll also discover yourself.
mobile deployment project lead
Gabrielle
Class of 2018
I wanted to drastically change environment and activities. And with Orange Graduate, there was a real possibility to do so. After my role in HR communications, I worked for 3 months in a start-up in a sales role. It really developed my thinking and enabled me to see clearly on a daily basis and in my work.
Gabrielle is a customer service performance manager and team manager
Find yourself
Define your own style of leadership

Improve your public speaking and posture

Be unbeatable when it comes to working collaboratively

Develop your active listening skills

Integrate innovative methodologies such as Design Thinking, Agility, and change management.

The bootcamp programme is tailored to your needs and desires - it changes from year to year to better adapt to you.
of our employees are proud to work for Orange
recommend Orange as a good place to work
consider Orange to be a digital and caring employer
Since 2014 Orange is certified GEEIS (Gender Equality for European and International Standard)